Nimen hao! Life has been incredibly busy since my return to Australia but I have finally found time to recap some of my experiences in China. Those who follow my
instagram
may already be familiar with parts my travels, but hopefully I've incorporated a broader snapshot of some amazing things I was able to do and see. Upon returning a friend questioned where all my sightseeing photos were. The majority of my photos feature the amazing food I ate - I took the opportunity to channel my inner Andrew Zimmern and hosted a 2 month long episode of Bizarre Foods. So fair warning, although I've tried to limit the number of food photos, the following post reads less like a 'fashion' blog more like a food/travel blog.
My journey into the Middle Kingdom began on the Shekou ferry from Hong Kong to Shenzhen, Guangdong. Shenzhen is one of China's Special Economic Zones, acting as a testing ground for many of the
CCP
's more liberal economic policies. Given that Shenzhen is only about 35 years old the amount of development and economic growth in the city is staggering. The pollution levels are relatively low, and the Winter weather averaged a mild 20ºC.
Given its relatively short history I wouldn't recommend Shenzhen if you're wanting to experience traditional Chinese culture and history. But you'll find great yum cha/dim sum and a broad range of cuisines as many people migrate to Shenzhen from all over China. In my first week I was introduced to roast pigeon. I don't eat a lot of meat at home, and trying to dismantle a full pigeon with my
bare
gloved hands was definitely a challenge, but worth it for the rich flavour. For breakfast I quickly learnt to enjoy a bowl of noodle soup, or the 4RMB
chang fen
(rice noodle rolls) I was able to buy near my apartment. One Saturday we set off to engage in some competitive haggling at the Dongmen markets. On the way we stumbled into my first large-scale street food experience- a giant hall filled with every possible delicious thing you could imagine. Everything tastes better cooked on a stick.
From Shenzhen we had a brief stay in Hong Kong, sampling the most amazing wontons and noodles I've ever had. I highly recommend lining up for the beef brisket noodles at Kau Kee, as well as bowl of wonton noodle soup from Tsim Chai Kee Noodle. We were also treated to some quality Cantonese cuisine at Island Tang. I particularly enjoyed the crystal king prawn and egg custard tarts.
From the mild and pleasant south we flew up to the deathly cold Beijing, at least by my Australian standards. The night of our arrival we visited the Donghuamen Market for some street food. This market is pretty much geared up for tourists - I did try a scorpion (it wasn't a big deal, tasted like an oily chip) - with high prices by Chinese standards and many stores selling similar dishes. However, if on your first visit to China I would recommend it due to the fact that most sellers spoke English. The man below was my favourite chestnut dealer. He even remembered my face and required quantity of chestnuts!
You will see plenty of dogs walking around the city in China, often wearing clothing and riding on a bike with their human. However this fluffy white dog was by far the most astonishing one of all. He was sitting very patiently on his human's bike, in riding position, while we pet him and took photos. I wondered whether it was because he didn't want to get his clean white paws dirty by walking on the streets. We also made the obligatory trip to the Great Wall of China. Below I'm trying to keep warm in my awesome Lei Feng hat, which was so cozy I wish it were cold enough in Australia for it to be socially acceptable to walk around in. My inner cat lady was able to locate furry friends in every city we visited. In Beijing I did not expect to find a group of cute little kitties sunning themselves next to the Great Wall. I was very appreciative when they meowed back at me.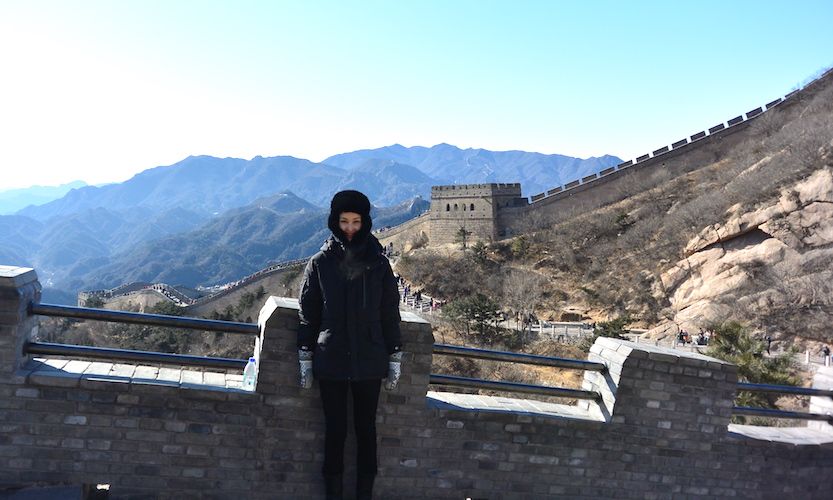 Hangzhou, Zhejiang is well known for its beautiful West Lake and longjing tea. You could spend two full days exploring the lake and its surroundings. Within the lake itself there are a few islands with picturesque scenery. You can view the Three Pools Mirroring the Moon, as found on the 1 yuan note. The photo below is from one of the islands. Walking around the lake was just as beautiful, with many temples and gardens to enjoy. The Zhiweiguan restaurant located near the lake serves delicious dishes, including pretty longjing tea cakes, xiao long bao, and the outrageously fatty Donpo Pork pyramid. This blog
here
has a few photos.
You'll know you're at a good restaurant in China when you receive terrible service, but the food is definitely worth a few inattentive waiters (... if you can find one to place your order). I don't know the name of the restaurant we dined at, but there I had my most memorable meal of the whole trip. Appealing to my sweet tooth, my favourite dishes were a fermented rice soup with flowers and rice balls, and an even more amazing red bean bun made from fluffy egg whites. I've never tasted anything like it before and doubt I'll be able to find anything similar again.
The final destination of my trip had me return down south to Changsha, Hunan, home to the dish that lives up to its name- stinky tofu. Thankfully the taste was mild relative to its smell. For the sake of those around me though I'm not sure I will try it again anytime soon. Located near Mao Zedong's hometown, Changsha has many sites dedicated to the revolutionary. I was fairly impressed by the giant statue of Chairman Mao's head on Juzi Island. My friend's family took me to an ancient village in the rural area, where I was able to see the traditional architecture and try some traditional tea (tea leaves, soya beans, ginger and sesame). I wandered into a little store filled with tools and old objects, when the man sitting at the desk gestured me over and showed me a pile of books. He had been collecting messages and signatures from visitors and wanted us to leave one too. He didn't speak any English, and I wondered whether he was able to read my message.
Nothing compares to the snacks and food available in the lead up to Chinese New Year. After lunch one day we walked past this large market area where there were numerous stalls, each selling huge bags of pomelos and boxes of fruit. Behind them, giant trucks filled with more loot waited patiently to be unloaded. Even a portion of the main road was blocked off to make room for more trucks. Unlike in the West, in China NY is a particularly big occasion that can last for several days. The constant fireworks banging in the background, day and night, served as a reminder of this. I really miss China- the food, lifestyle, culture, and most of all my new friends. I feel incredibly grateful to have shared my time in China was such lovely people. 我爱你,中国, I will definitely be back.
I really enjoyed putting this post together and reliving some memories. I hope you enjoyed it too, despite it being a bit off topic. I hope to start blogging actively again soon if I'm able to find the time.
Have you been doing any travelling lately? Or planning a future adventure?
Bloglovin'
Facebook
Instagram
Twitter
Tumblr