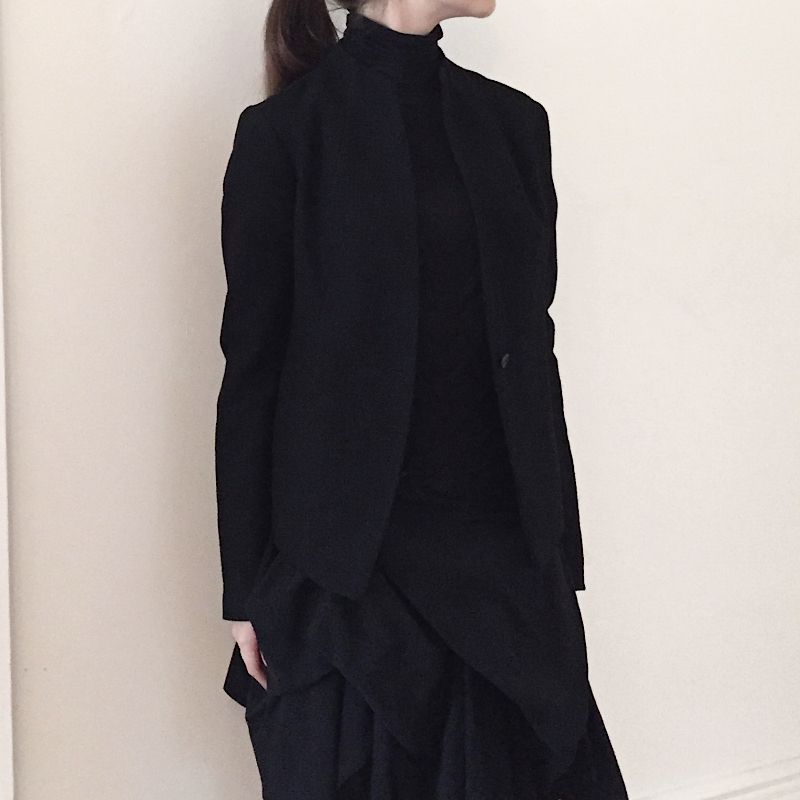 Forme D'Expression blazer, wool
Ann Demeulemeester skirt, wool, cotton
Rick Owens Lilies turtleneck, cotton
Guidi boots
So it was raining this morning and I had to take photos indoors, which are terribly underexposed even with the curtains open, but I wanted to share this outfit anyway. I love this Ann Demeulemeester skirt with a knotted tie at the waist, bustling from underneath. I enjoy how the collar of this blazer is structured and interesting without including any lapels. I recently had a chat with a lovely individual on SZ who asked me some thought provoking questions and shared some of their own insightful thoughts. One topic we discussed was the shift in our wardrobes away from the extreme and sometimes harsh vision of Rick Owens. Moving away from the world of "extreme" pieces (well, I can't say I'm doing this completely) to those with more subtlety, one comes to appreciate the unique construction of traditionally ordinary things. This notion perfectly describes my feelings about this black blazer; an item most women have in their wardrobes. Taking a closer look at its construction and fit, Koeun Park has created a jacket with tailoring and space in unique places. Something you can truly feel special wearing, yet still quiet enough that only onlookers who pay attention to detail will appreciate.
Bloglovin'
Facebook
Instagram
Twitter
Tumblr